Gene Structure and Expression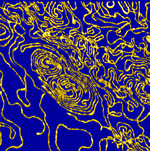 Within the past decade, there has been remarkable progress in our understanding of the structure of genes, the mechanism of their expression, and the identification of factors regulating this expression in response to environmental or developmental signals.  An understanding of gene regulation is vital for understanding the control of normal cell proliferation and differentiation, as well as the molecular basis of deregulated cell growth that occurs in many human diseases including cancer.
This knowledge is obtained both by direct biochemical analysis of the protein-protein and protein-DNA interactions that are essential for gene regulation and by genetic studies, which can reveal the functional relationships of those cellular factors that control the expression of a gene and thus complement the biochemical approaches. Both bacterial and eukaryotic cell systems(including yeast, plants, invertebrates and vertebrates) are providing both general and specific information about gene expression.
Faculty in this Area: