Immunology, Virology and Molecular Pathogenesis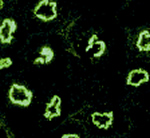 Remarkable progress has been made in recent years in understanding the properties of infectious agents such as bacterial pathogens, viruses, and protozoa, which allow these organisms to cause disease. Equally important has been the definition of the immune system and how it responds to the presence of infectious agents. Researchers at the University of Virginia are interested in the mechanisms by which cells of the immune system recognize the presence of foreign substances or of virally infected cells and how the immune cells act to eliminate these invaders.
Other researchers focus on the properties of infectious agents and study the structure and assembly of viruses, including RNA tumor viruses, the HIV agent associated with AIDS, and other RNA- and DNA-containing viruses that are of medical importance. Other groups study the surface properties of fungi and amoeba that allow them to cause disease. It is only by understanding both the character of the infectious agents and the nature of the body's response to these that we will be able to conquer the particular disease.
Faculty