Program Overview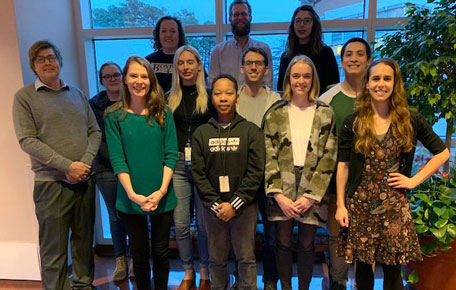 The Cell and Molecular Biology Training Program (CMB) at the University of Virginia (UVA) has been developing STEM leaders for the last 35 years and our trainees not only excel as research PIs but fill a tremendous number of STEM positions in the American Economy. UVA has a vibrant graduate degree program in the biomedical sciences where PhD students enter an umbrella program with general training for the first year and then specialized education is driven by departments after they join a lab at the end of the first year.
The CMB Program  concentrates on the second, third and fourth years of training when students are embarking on their journey of becoming independent research scientists.  An important goal is to complement the specialized training provided within departments with a broad exposure of the vast array of approaches and techniques available to today's biomedical community.  In addition, the program provides a series of classes, workshops, retreats and monthly meetings to provide critical tools for a highly productive training experience.
Central to our mission is the fact that CMB is a vibrant and continuously evolving program that works with students and faculty to build on our current strengths, identify new areas of focus and develop mechanisms to address our perceived weaknesses.
Our overarching goal is to develop PhD scientists that combine outstanding laboratory experiences with strong communication skills and broad interests the biomedical sciences.  We feel these are the essential elements to develop scientists that will have a love of science and the tools for lifelong learning in a STEM field.
Goals
Goal 1:  Provide an inclusive environment for training our students in the scientific process that emphasizes transparency and scientific rigor.
A key to our inclusivity is strong recruitment of diverse students and faculty and CMB has trained over 20% under-represented students for the last 10 years.  The program has new workshops in mentor training and by the Center of Open Science which is a Charlottesville based company at the forefront of the call for increases in Scientific reproducibility and rigor.  These are incorporated into outstanding classes on ethics in science to build a student centered training environment. Scientists must also engage actively with the community so the program incorporates volunteer programs and lectures that expose students to the major challenges of today's biomedical community.
Goal 2:  Train predoctoral students in a manner that provides broad exposure to concepts and approaches in the biomedical sciences.
The program is built on the philosophy that the best biomedical scientists deeply appreciate that questions in biology need to be approached at organismal, cell biological and biophysical levels.  The departments at UVA school of medicine often specialize in one of these levels and thus trainees have the potential to lack exposure to the extensive number of available approaches to address biological questions.  CMB mixes the top students and PIs from each of the basic science departments in a series of programmatic activities designed to ensure that trainees are exposed to the breadth of biological approaches throughout their training years. Thus, students retain broad interests organically through student-based interactions.
Goal 3:  Equip our students with critical thinking, writing, oral communication and professional skills.
Communication is a key to confident and productive scientists.  The program contains a series of classes, monthly meetings, poster sessions and retreats designed to increase critical professional skills that are the basis of all STEM vocations.
---
The success of the CMB graduate training program can be attributed to:
The reputation of the University of Virginia, which brings together outstanding faculty and students.
The long history of cooperation and collaboration among the faculty.
A history of a student-centered program that is constantly evolving.
The structuring of our programmatic activities that directly address our goals.
Strong institutional commitment to both graduate training and to an infrastructure to oversee the entire graduate student experience.
Home Department of CMB Trainees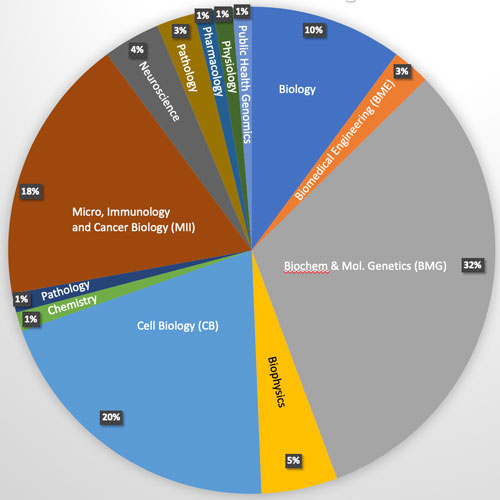 Home Departments:
Biochemistry & Molecular Genetics (BMG): 32%
Cell Biology: 20%
Micro, Immunology & Cancer Biology: 18%
Biology: 10%
Neuroscience: 4%
Pathology:4%
Biomedical Engineering: 3%
Chemistry, Pharmacology, Physiology, and Public Health Genomics: 1%