Facilities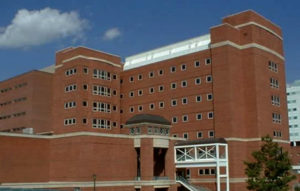 The individual faculty members of the Cell and Molecular Biology group are each housed within modern, well-equipped research laboratories. The departments of Cell Biology, Biochemistry, Microbiology, Pharmacology, and Molecular Physiology and Biological Physics are located in the Pinn Medical Education Building, and the Biology Department is located in Gilmer Hall, a ten-minute walk away from Pinn Hall. Exceptional research support facilities are available throughout the School of Medicine and the College of Arts and Sciences. Centralized instrumentation facilities include:
Transmission electron microscopes, scanning electron microscopes, freeze-fracture machines, and a scanning-transmission electron microscope equipped for energy-dispersive X-ray analysis.

Image analysis facility for quantitative data collection from light micrographs, electron micrographs, gel scans and other sources.

Fluorescence activated cell sorter and analyzer.

Protein and nucleic acid sequencing laboratory.

X-ray crystallography laboratory.

Magnetic resonance spectrometers.

Gas chromatograph-mass spectrometer facility.

A central hybridoma service facility for production of specific monoclonal antibodies.

A fully-equipped and fully-staffed vivarium provides a wide range of large and small laboratory animal services.
The University of Virginia has an excellent system of libraries that specialize in the areas of Biology/Psychology, Chemistry, Physics, Engineering and Science/Technology. The Health Sciences Center houses the modern Claude Moore Health Sciences Library, which provides a wide range of computerized bibliographical services.
The University operates extensive computer facilities, centered around the Academic Computing Health Sciences center located in the Hospital West complex. This center provides professional advice, access to major computers and peripheral equipment, and training programs.