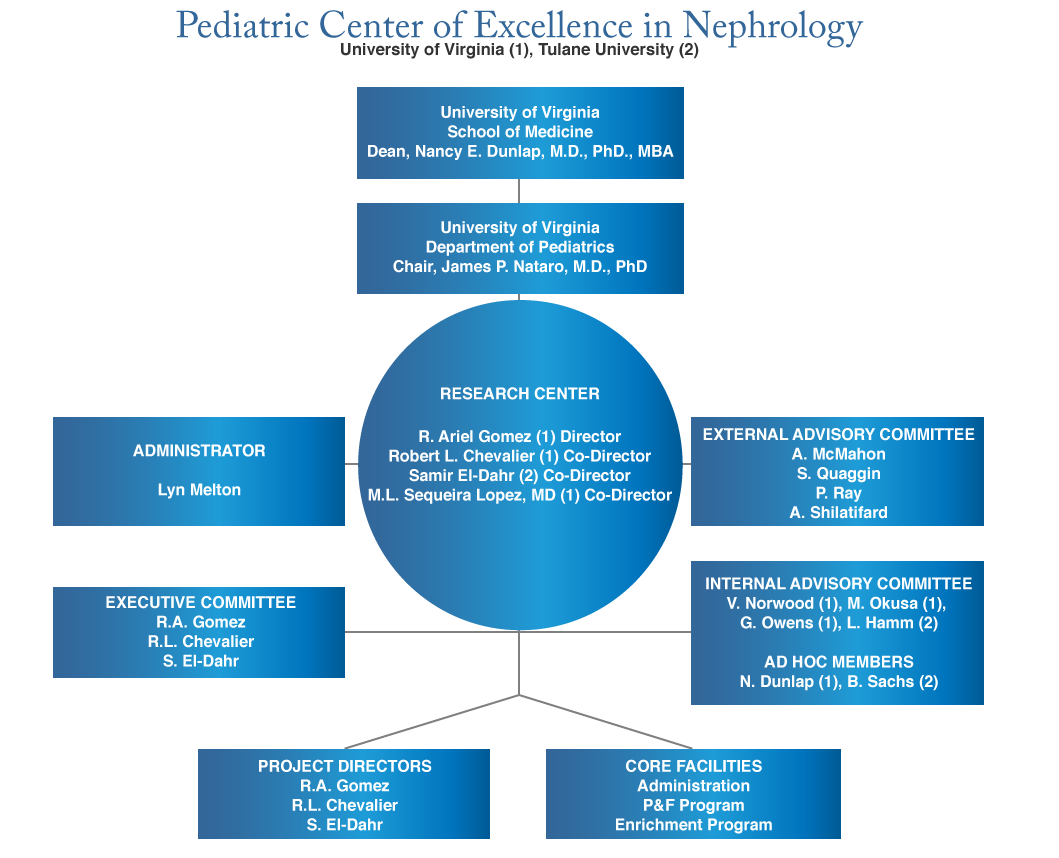 The Program Director,  R. Ariel Gomez, MD, is responsible for the scientific coordination, direction of research emphasis and overall administration of the Center.  He is assisted in scientific and administrative matters by Co-Directors, Robert L. Chevalier, MD and Samir El-Dahr, MD, senior PIs of two of the Center projects. Drs. Gomez, Chevalier and El-Dahr form the Executive Committee, which makes decisions concerning research emphasis, disbursement of funds and oversight of the Pilot and Feasibility and Enrichment programs. This committee also examines the scientific merit of proposed new research endeavors, including Pilot projects, and functions as a primary scientific and technical review body.
The Internal Advisory Committee oversees local activities and coordination and facilitates communication within the participating institutions or externally. This committee advises the Director and Co‑Directors of the Center concerning research emphasis, the quality of the research and proposed new research endeavors.  The Internal Advisory Committee has three members at The University of Virginia, Mark D. Okusa, MD (Director, Kidney and Regenerative Medicine Center), Gary E. Owens, PhD (Director, Cardiovascular Research Center) and Victoria Norwood, MD (Division Head, Pediatric Nephrology) and one member from Tulane, Lee Hamm, MD (Chair, Department of Medicine). In addition, Drs. Dunlap and Sachs, respective Deans of the Schools of Medicine at the University of Virginia and Tulane University, are ad hoc members of this committee.
The External Advisory Committee is composed of scientists with well-established research programs in research related to the work of the Center. The members are: Susan E. Quaggin, MD (Director, Feinberg Cardiovascular Research Institute, Northwestern University Feinberg School of Medicine),  Andrew P. McMahon, PhD (Director, Eli and Edythe Broad Center for Regenerative Medicine and Stem Cell Research, University of Southern California) and Ali Shilatifard, PhD (Stowers Institute for Medical Research). The external advisors visit with the investigators of the two participating institutions yearly. During their visit, they review individual projects in their sphere of expertise, offer suggestions to project investigators, look at the integration of the participating institutions and provide the Director of the Center with a formal written evaluation of research projects and the administrative management of the Center. The external consultants also make recommendations regarding the suitability and continuation of pilot projects. In addition, in keeping with the educational mission of the Center, consultants are invited to give a seminar in their respective research areas and interact with pediatric residents and fellows and PhD researchers in the institution.