Maria Luisa S. Sequeira Lopez, M.D.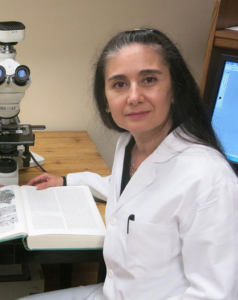 Dr. Maria Luisa S. Sequeira Lopez received her medical degree from the University of Buenos Aires, Argentina in 1990, followed by a Pediatric residency and a Fellowship in Ambulatory Pediatrics, both completed at the Hospital de Pediatria Garrahan in Buenos Aires. Next, she joined the University of Virginia, School of Medicine where she received her postdoctoral research training and continued her academic career. In 2000 she obtained a Postdoctoral Fellowship from the Howard Hughes Medical Institute, followed by continuous funding from the National Institute of Health. Dr. Sequeira Lopez holds the Harrison Distinguished Professorship in Pediatrics and is a Fellow of the American Heart Association.
Dr. Sequeira Lopez research program focusses on cell lineage, fate and vascular development. Her research contributions include the identification the earliest renal vascular progenitors and the demonstration that formation of blood vessels occurs concomitantly with blood generation (hemo-vasculogenesis) throughout the embryo before and during organogenesis (including in the kidney). Dr. Sequeira-Lopez discovered that all renal vascular cells originate and assemble in situ from the embryonic kidney mesenchyme rather than from an extrarenal source, a fundamental finding with additional implications for our capability to perform tissue engineering of kidneys.