Sana Syed, MD, MS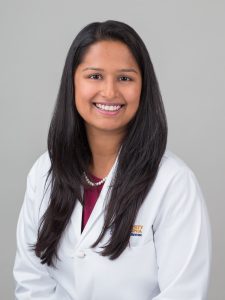 Sana Syed is a Global Health Scientist with a background in pediatrics, gastroenterology & nutrition and global health/epidemiology.  She is on faculty at the University of Virginia in the Center for Global Health with an adjunct faculty appointment at the Aga Khan University, Department of Pediatrics and Child Health, Karachi, Pakistan with the overarching goal to study small intestinal structure and function in children who experience growth and vaccine failure in low- and middle-income countries around the world.
Her research focuses on understanding why a subset of children living in in low- and middle-income countries around the world develop growth and vaccine failure, an entity known as Environmental Enteric Dysfunction (EED). As a member of the Moore Lab, working along with collaborators at the Aga Khan University in Karachi, Pakistan, her work involves: 1) development of a histopathologic score based on morphometric characteristics of intestinal tissue from these children; 2) the development of an image and video analysis platform for the automated extraction of quantitative morphologic phenotypes from duodenal biopsy images taken from undernourished and healthy children; 3) develop methods in data science to support the integration biopsy and video capsule endoscopy data with clinical and molecular data, enabling the construction of biologically informative and clinically useful integrative prognostic models, in her case in pediatric undernutrition; 4) understanding differences in key epithelial transporters and binding protein expression among children with EED versus healthy and diseased controls; 5) deriving and validating case definitions for environmental enteropathy for use in interventional studies; 6) estimating associations between non-invasive biomarkers as well as specific enteropathogens with growth and immune outcomes in children with EED; and 7) development of directed nutrient and other interventions for environmental enteropathy in children.


Community field site in Matiari, Pakistan and Research Study Community Health Workers
Contact Information:
Phone: 434-924-8009
Email: sana.syed@virginia.edu
Saeed SA, Ahmed S, ….. Syed S, ….Sheikh, S. A new function of human haptoglobin: Endogenous inhibition of prostaglandin biosynthesis and its relation to haemoglobin binding. J Med Sci 2003;3(5-6):344-57.
Brown D.E, Arzumanov A, Syed S, Gait M.J, Lever A.M.L. Inhibition of HIV-1 replication by oligonucleotide analogues directed to the packaging signal and transactivating response region. Antiviral Chemistry & Chemotherapy 17:1-9; 2006.
Doctor P, Sultan A, Syed S, Christen W, Bhat P, Foster CS. Infliximab for the treatment of refractory scleritis. British Journal of Ophthalmology 94:579-583; 2010.
Zaidi AK, Ganatra HA, Syed S, Cousens S, Lee AC, Black R, Bhutta ZA, Lawn JE. Effect of case management on neonatal mortality due to sepsis and pneumonia. BMC Public Health 11 Suppl 3:S13; 2011.
Vos T, Flaxman AD, Naghavi M, Lozano R, Michaud C, Ezzati M……. Syed S,…….Murray CJ. Years lived with disability (YLDs) for 1160 sequelae of 289 diseases and injuries 1990-2010: a systematic analysis for the Global Burden of Disease Study 2010. Lancet 380: 2163-2196; 2012.
Murray CJ, Vos T, Lozano R, Naghavi M, Flaxman AD, Michaud C…….Syed S,…….Lopez AD. Disability adjusted life years (DALYs) for 291 diseases and injuries in 21 regions, 1990—2010: a systematic analysis for the Global Burden of Disease Study 2010. Lancet 380: 2197-2223; 2012.
Seale AC, Blencowe H, Zaidi A, Ganatra H, Syed S, Engmann C, et al. Neonatal severe bacterial infection impairment estimates in South Asia, sub-Saharan Africa, and Latin America for 2010. Pediatric Research 74 Suppl 1:73-85; 2013.
Seale AC, Blencowe H, Manu AA, Nair H, Bahl R, Qazi SA, Zaidi AK, Berkley JA, Cousens SN, Lawn JE, pSBI Investigator Group. Estimates of possible severe bacterial infection in neonates in sub-Saharan Africa, south Asia, and Latin America for 2012: a systematic review and meta-analysis. Lancet Infect Dis, 2014 Aug;14(8):731-41
Syed S. Iodine and the "near" eradication of cretinism. Pediatrics. 2015 Apr;135(4):594-6.
Syed S, Tran DQ, Kemper AR, Geme JW 3rd, Lantos JD. Authorship Concerns and Who Truly Owns a Research Idea? Pediatrics. 2015 Nov;136(5):969-73
Simek RZ, Prince J, Syed S, Sauer CG, Martineau B, Hofmekler T, Freeman AJ, Kumar A, McElhanon BO, Schoen BT, Tenjarla G, McCracken C, Ziegler TR, Tangpricha V, Kugathasan S. Pilot Study Evaluating Efficacy of 2 Regimens for Hypovitaminosis D Repletion in Pediatric Inflammatory Bowel Disease. J Pediatr Gastroenterol Nutr. 2016 Feb;62(2):252-8.
Manyapu M, Warraich GJ, Kugathasan S, Syed S. 2-Year-Old with a Limp and Suspected Non-Accidental Injury. J Pediatr Gastroenterol Nutr. 2016 Feb 9.
Romano C, Syed S, Valenti S, Kugathasan S. Management of Acute Severe Colitis in Children With Ulcerative Colitis in the Biologics Era. Pediatrics. 2016 May;137(5)
Syed S, Addo OY, De la Cruz-Góngora V, Ashour FA, Ziegler TR, Suchdev PS. Determinants of Anemia among School-Aged Children in Mexico, the United States and Colombia. Nutrients. 2016 Jun 23;8(7).
Syed S, Ali A, Duggan C. Environmental Enteric Dysfunction in Children. J Pediatr Gastroenterol Nutr. 2016 Jul;63(1):6-14.
Syed S, Kugathasan, Kumar A, Prince J, Schoen BT, McCracken C, Ziegler TR, Suchdev PSS. Use of Reticulocyte Hemoglobin Content in the Assessment of Iron Deficiency in Children with Inflammatory Bowel Disease. J Pediatr Gastroenterol Nutr. 2016 Jul 16. [Epub ahead of print]
Syed S, Duggan CP. Risk Factors for Malnutrition and Environmental Enteric Dysfunction – You Really Are What You Eat. J Pediatr. 2016 Nov;178:7-8.
Syed S, Smith EM, Tangpricha V, Chesdachai S, Kumar A, Prince J, Ziegler TR, Suchdev PS, Kugathasan S. Vitamin D status is Associated with Hepcidin and Hemoglobin concentrations in Children with Inflammatory Bowel Disease. Inflamm Bowel Dis. 2017 Jul 11.
Syed S, Moore SR. EBioMedicine. Tissue is the Issue: Duodenal Biopsies to Elucidate Gut Structure and Function Among Undernourished Children in Low-Resource Settings. EBioMedicine. 2017 Sep;23:10-11.
Syed S*, Dinallo V*, Iqbal NT, Di Iorio L, Di Fusco D, Guleria S, Amadi BC, Sadiq K, Moskaluk CA, Ali A, Kelly P, Monteleone G. High SMAD7 and p-SMAD2,3 expression is associated with environmental enteropathy in children. PLoS Negl Trop Dis. 2018 Feb 7;12(2):e0006224. *equal contributions
Iqbal N, Sadiq K, Syed S, Akhund T, Umrani F, Ahmed S, Yakoob M, Rahman N, Qureshi S, Xin W, Ma J, Hughes M, Ali S. Promising Biomarkers of Environmental Enteric Dysfunction: A Prospective Cohort study in Pakistani Children. Sci Rep. 2018 Feb 14;8(1):2966.
Syed S, Iqbal NT, Ma J, Akhund T, Xin W, Moore SR, Liu E, Qureshi S, Gewirtz A, Duggan CP, Ali SA. Serum Anti-Flagellin and Anti-Lipopolysaccharide Immunoglobulins as Predictors of Linear Growth Faltering in Pakistani Infants at Risk for Environmental Enteric Dysfunction. PLoS One. 2018 Mar 6;13(3):e0193768.