Mario R. Capecchi, PhD
2016 Betsy and Stuart Houston Lecture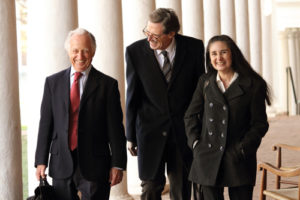 Mario R. Capecchi, PhD, a Nobel Laureate whose work can be applied either directly or indirectly to nearly every medical field of research, spoke at the University on April 5, 2016. Capecchi, with Sir Martin J. Evans and Oliver Smithies, received the 2007 Nobel Prize in Physiology or Medicine for their research on the use of embryonic stem cells to introduce gene modifications in mice. His lecture filled the entire auditorium — leaving every chair filled, the stairs stacked on both sides, and the back of the room lined — as well as provided a live broadcast to attendees in a separate study hall.
Sponsored by the Child Health Research Center and the Vice President for Research, the talk was entitled "Gene Targeting into the 21st Century: Mouse Models of Human Disease from Cancer to Neuropsychiatric Disorders."
Capecchi, a professor of human genetics and biology at the University of Utah School of Medicine, gave a lecture on his research and modern-day applications for knockout mice at the University Claude Moore Medical Education Building.
Capecchi, a member of the National Academy of Sciences and the European Academy of Sciences, has been decorated with numerous accolades over the years — General Motors Corporation's Alfred P. Sloan Jr. Prize for Outstanding Basic Science Contributions to Cancer Research, National Medal of Science and the March of Dimes Prize in Developmental Biology, among many others.
Capecchi's research includes molecular genetic analysis, the production of mouse models of human genetic diseases and genetic manipulations and rearrangements in mice.
Betsy and Stuart Houston provided the monetary gift to endow the lecture, the first of an annual Houston Lectureship. A previous patient of the Medical Center, Betsy Houston passed away in 2015, but she and her husband provided a contribution prior to her death to support Medical Center programs including women's midlife health, interventional radiology and the interprofessional education program. The lectureship invites an outstanding scientist to visit the University each year.
Dr. R. Ariel Gomez, director of CHRC, said that most of these successful and influential scientists experience overbooked schedules, and must be invited at least a year in advance. Gomez estimated that at least 500 people attended the lecture.
"The idea for these lectures developed during a conversation [Department of Pediatrics Chair Jim Naturo and I] had with our benefactors, Betsy and Stuart Houston, who approached us to develop a high level educational program," Gomez said. "So we decided to invite as our first speaker Dr. Mario Capecchi, a Nobel laureate, an extraordinary scientist who continues to make groundbreaking discoveries of relevance to a variety of fields including developmental biology, cancer, neurological diseases and so forth."
Current medical research in various fields integrates knockout mice, which are mouse models that have been genetically manipulated to remove a chromosomal region of interest, thereby turning off that specific gene. These models allow for a closer translation of human ailments into mice, promoting a more thorough and accurate scrutiny of conditions and diseases and an analysis of drug and treatment efficacy.
In his talk, Capecchi described the application of knockout mice to not only cancer models, but also to neuropsychiatric disorders. His lab, which utilizes mice to assess neuropsychiatric disorders, focuses on behavioral patterns and differences.
Assessing a model for obsessive compulsive disorder, Capecchi and his lab observed that the mice spent less time sleeping and more time grooming as compared to a wild-type, or normal, mouse. These mutant mice spent time compulsively cleaning not only themselves but also any cagemates, even to the point of removing body hair.
Using this model, the lab discovered that a bone marrow transplant from a non-OCD mouse could actually cure OCD grooming behavior. Similarly, they realized that adding bone marrow from the OCD mice to normal control mice was sufficient to cause disease. Capecchi's research illustrates the direct application of animal models to research, leading to eventual treatment in human patients.
"We went all the way from this model to having [clinical trial] candidates," he said.
via The Cavalier Daily