Mark DeBoer, MD, MSc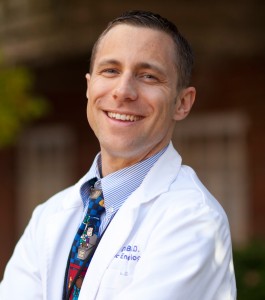 I'm particularly interested in the causes of childhood obesity and the problems it can lead to. Some of the causes of obesity that we evaluate are well known, such as excess consumption of juice or sugary beverages, creating excess calories that are stored as fat. This leads to a logical solution for parents – they shouldn't offer these drinks to their children. However, other causes of obesity are surprising. For example, another research interest relates to long-term obesity risk related to poor weight gain due to frequent intestinal infections in very early life – a relationship that may have implications for children in the developing world where enteric infections are common and adult obesity is increasing.
Much of my research relates to the metabolic syndrome, which is a cluster of clinical factors that can result from obesity and increase the risk of heart disease and Type 2 diabetes. My research partner Dr. Matthew Gurka and I use information regarding the metabolic syndrome in children and adults to predict risk of future disease as a means of identifying and motivating those at highest need for weight loss. Unfortunately, pediatric obesity is likely to shorten the lifespan of a lot of children we see in clinic. My hope is that pinpointing the causes of obesity and knowing more about the problems associated with it can help practitioners, families, and children improve their health.

I also work with UVa's Center for Diabetes Technology alongside a diverse group of engineers and clinicians interested in using new technological tools to improve care of individuals with Type 1 diabetes. Individuals with Type 1 diabetes are unable to produce their own insulin because of destruction of insulin-producing cells in the pancreas. The Center for Diabetes Technology is a world leader in the development of the artificial pancreas, which offers the potential to use sophisticated computer algorithms to link blood sugar data from continuous glucose monitors to insulin delivery from insulin pumps, thus mimicking the role that the pancreas normally plays. These emerging technologies are poised to offer improved health and quality of life for children, adolescents, and adults with Type 1 diabetes.
Contact Information:
Phone:  434-924-9144
Email:  mdd5z@virginia.edu