W. Gerald Teague, MD
Pediatric Asthma Center of Excellence
Who we are:
The Pediatric Asthma Center of Excellence is a consortium of physician investigators at the University of Virginia dedicated to the understanding of childhood asthma. The Center is headed by W. Gerald Teague, MD, a clinician-scientist who has been involved in clinical studies of children with asthma for approximately 30 years.
Faculty members involved with asthma clinical research in the Department of Pediatrics include:
W. Gerald Teague, MD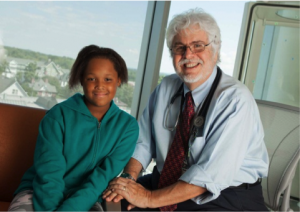 Ivy Foundation Distinguished Professor of Pediatrics. Dr. Teague is researching severe asthma, structural changes in the lungs associated with asthma, and development of novel therapies to treat childhood asthma. He is the UVa Principle Investigator in the NIH/NHLBI Severe Asthma Research Program, and the American Lung Association's Asthma Clinical Research Network.
Peter Heymann, MD
Professor of Pediatrics, Division of Allergy and Immunology. Dr. Heymann has NIH funding from the NIAAID to study the effects of omalizumab therapy on experimental human rhinovirus infection and is a career investigator dedicated to mechanisms of asthma and allergy in children. He recently published a pioneer study of the role of dust mite sensitization on probability of wheeze in Costa Rican children with naturally acquired rhinovirus infection.
What we do
We are currently involved in collaborative studies as follows:
Understanding of the effects of puberty and sex hormones on asthma severity in children, funded by the NIH/NHLBI Severe Asthma Research Program.
Conduct of multi-center effectiveness trials of new therapies for childhood asthma, funded by the American Lung Association's Asthma Clinical Trials network.
Diversity and abundance of the airway microbiome in regards to asthma severity and control in children. A pilot project supported by The Department of Pediatrics and the Child Health Research Center.
Determinants of airway and vascular smooth muscle development in mice in collaboration with Ariel Gomez, MD.
Application of hyperpolarized noble gas MRI to the understanding of the structural and functional complications of childhood asthma in collaboration with Talissa Altes, MD.
Ventilation heterogeneity as a determinant of respiratory gas exchange and asthma control in children in collaboration with Jimmy Smith, MD in critical care medicine.
Effects of omalizumab therapy on the lung effects of experimental human rhinovirus inoculation in young adults with and without asthma in collaboration with Peter Heymann, MD.
The broad mission of our group is through better understanding of the pathobiology of childhood asthma to pioneer the development of novel therapies towards decreasing the burden of this highly prevalent disease.
Contact Information:
Phone:  434-243-0613
Email:  wgt2p@virginia.edu