Agnieszka Swiatecka-Urban, MD, FAAS, FAAP
Urban Research Laboratory
Major Research Areas:
We integrate molecular, genomic, biochemical, physiological, and bioinformatic approaches in the in vitro and in vivo models to study mechanisms of kidney and lung disease.
Lung disease is the major cause of morbidity and mortality in patients with cystic fibrosis (CF). Patient with the most common disease-causing mutation in the CFTR gene resulting in a deletion of phenylalanine 508 (F508del) benefit from the high efficiency modulator therapy (HEMT), recently approved by the Food and Drug Administration. We have demonstrated that the cytokine elevated in many CF patients called transforming growth factor beta (TGF-β1) inhibits CFTR mRNA by a micro-RNA mediated mechanism (1). Thus, TGF-β1 may be a major negative regulator of the CF lung disease, preventing the full potential of HEMT. One of the current projects is designed to correct the pathogenic activity of transforming growth factor beta (TGF-β1) signaling in the CF airway. Another project focusses on identifying the role of TGF-β1 in SARS-CoV-2 invasion of the CF airway.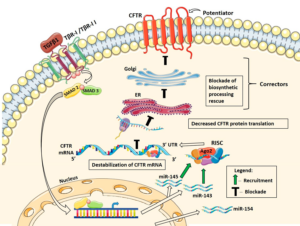 Fig. 1. Summary of data showing TGF-β1 recruitment of micro(mi)RNA-143 and mi-145 to RNA-induced silencing complex (RISC) leading to the destabilization of CFTR mRNA and reduced efficiency of HEMT-mediated rescue (CFTR potentiator and corrector) of mutant CFTR in the CF bronchial epithelial cells (1).
Even though the total body edema resulting from urinary protein losses in nephrotic syndrome has been recognized since the antiquity, causes have not been completely elucidated. Nephrin is a transmembrane protein and a critical component of the kidney filtering unit or glomerular podocyte slit diaphragm. Nephrin mislocalization or mutations in the nephrin gene are responsible for some forms nephrotic syndrome. We have been studying how nephrin maintains the integrity of the podocyte slit diaphragm to inform how to repair its abnormal function in nephrotic syndrome (2).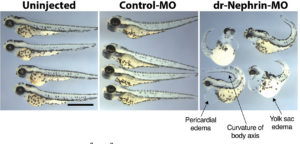 Fig. 2. Zebrafish (Danio rerio) embryos as a model of nephrotic syndrome. Images demonstrating normal phenotype of uninjected animals (left), animals injected with control morpholino (center), and animals injected with nephrin morpholino (right) showing pericardial and yolk sac edema and curvature of body axis (2).
Kidney transplantation is the optimal treatment for improving survival and quality of life in patients with end-stage kidney disease. There is an alarming disparity between kidney transplantation needs and available organs. Currently, more than 100,000 Americans with kidney failure are on a waitlist due to organ shortage.  In Virginia, 12,000 residents live with transplanted kidney, and 2,200 require a transplant.  The survival of transplanted kidney for more than ten years is observed in less than 60% of patients. It means that approximately 5,000 Virginians who currently live with a kidney transplant will lose the organ and enter the waitlist again. The risks predisposing to loss of the transplanted kidney function are incompletely understood. A translational research project is designed to identify and combine genetic variants in the kidney graft donor and recipient into a risk stratification or polygenic risk score for chronic graft function loss.
Selected Publications:
Mitash N, Mu F, Donovan JE, Myerburg MM, Ranganathan S, Greene CM, Swiatecka-Urban A. Transforming Growth Factor-β1 selectively recruits microRNAs to the RNA induced silencing complex and degrades CFTR mRNA under permissive conditions in human bronchial epithelial cells. Int. J. Mol. Sci.2019, 20(19), 4933; pii: E4933. PMID: 31590401
Espiritu EB, Huajun J, Moreau-Marquis S, Sullivan M, Yan K, Beer Stolz D, Sampson MG, Hukriede NA, Swiatecka-Urban A. The Human Nephrin Y1139RSL Motif is Essential for Podocyte Foot Process Organization During Glomerular Development. J Biol Chem, 2019 Jul 12;294(28):10773-10788. PMID: 31152064
De Santi C, Fernández E, Gaul R, Vencken S, Glasgow A, Oglesby IK, Hurley K, Hawkins F, Mitash N, Mu F, Raoof R, Henshall D, Cutrona MB, Simpson JC, Harvey BJ, Linnane B, McNally P, Cryan SA, MacLoughlin R, Swiatecka-Urban A and Greene CM (2020) Precise targeting of miRNA sites restores CFTR activity in CF bronchial epithelial cells. Mol. Ther. 2020 Feb 6. pii: S1525-0016(20)30087-3. PMID:32059764. IF 8.402
Cruz DF, Mitash N, Farinha CM, Swiatecka-Urban A (2020) TGF-β1 augments the apical membrane abundance of lemur tyrosine kinase 2 to inhibit CFTR-mediated chloride transport in human bronchial epithelia. Front. Cell Dev. Biol., 2020 Feb 7;8:58 PMID: 32117984. IF 5.186
Mitash N, Donovan JE, Swiatecka-Urban A (2020) The role of miRNA in the airway surface liquid homeostasis. Int. J. Mol. Sci. 2020, 21, 3848; doi:10.3390/ijms21113848. PMID: 32481719. IF 4.566
Mitash N, Donovan JE, Swiatecka-Urban A (2020) The Ago2-miRNA-co-IP Assay to Study TGF- β1 Mediated Recruitment of miRNA to the RISC in CFBE Cells. J Vis Exp 2020 Jul 31;(161). Doi: 10.3791/61571. PMID:32894261. IF 1.2
Narla D, Swiatecka-Urban A (2020) Therapeutic Response to Corticosteroids Remains a Valid Approach to Initial Management of Children with Idiopathic Nephrotic Syndrome. Front. Pediatr. 2020, Sept 02.Doi:10.3389/fped.2020.00533. PMID: 32984227. IF 2.634
Cruz DF, Mitash N, Mu F, Farinha CM, Swiatecka-Urban A (2021) Differential gene Expression Analysis Reveals Global LMTK2 Regulatory Network and Its Role in TGF-β1 Signaling. Front. Oncol., 2021, March 18. Doi: 10.3389/fonc.2021.596861. PMID: 33816229. IF 4.848
Complete List of Published Work:
Dr. Urban is a faculty of the Biomedical Sciences Graduate Program (BIMS) @uva_bims
https://med.virginia.edu/bims/programs/
Lab Members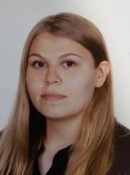 Ewelina Hejenkowska, Graduate Student, UVA Biomedical Sciences Graduate Program (BIMS)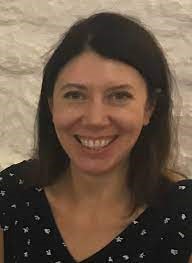 Iuliia Vitko, PhD, Clinical Research Coordinator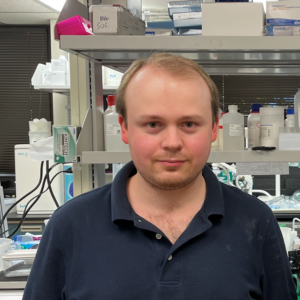 Joshua Donovan, BS, Research Associate