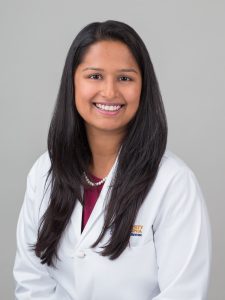 Dr. Sana Syed is a Pediatric Gastroenterologist and Translational Clinical Scientist at the University of Virginia. She has clinical training in pediatrics, gastroenterology and nutrition along with background of translational, epidemiologic and data science research. Her scientific endeavors focus on using computational approaches to interpret common gastrointestinal diagnostics with the overarching goal of using these platforms for further analysis of biologic stunting pathways in childhood, enteropathy pathogenesis, nutritional epidemiology and structural biology. Along with projects involving collaborations with the School of Engineering here at UVA, Dr. Syed leads clinical GI research initiatives in the neonatal intensive care unit at UVA along with global health projects at the Aga Khan University, Pakistan where she has an adjunct faculty appointment.
Broad research goals of her research group include: 1) development of an image and video analysis platform to interpret morphometric characteristics of intestinal tissue from children with growth failure; 2) develop methods in data science to support the integration biopsy, radiology and video capsule endoscopy data with clinical and molecular data, enabling the construction of biologically informative and clinically useful integrative prognostic models, in our case in pediatric undernutrition; 3) estimating associations using multiomics and non-invasive biomarkers with growth and immune outcomes in children with enteropathies such as environmental enteropathy and celiac disease; 4) development of directed nutrient and other interventions for children with growth failure; and 5) understanding how to improve GI outcomes related to nutrition and gut function in the NICU.
           Figure 1: Convolutional neural network classification and visualization framework for small bowel structure


Figure 3:  Community field site in Matiari, Pakistan and Research Study Community Health Workers
List of Published Work in MyBibliography:
https://www.ncbi.nlm.nih.gov/sites/myncbi/1H_gctqIW7LA_/bibliography/43077550/public/?sort=date&direction=ascending
Contact Information:
Please contact 434-924-2457 for any queries related to patient/clinical matters.
For all research related queries please call 434-924-8009.
Email: sana.syed@virginia.edu
Twitter:  @sanasyedsana