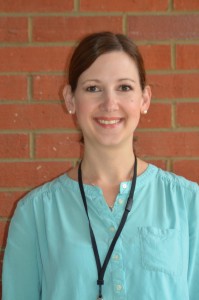 Research Interests
As adolescents transition to adulthood, they are at heightened risk for experiencing interpersonal trauma, such as sexual or physical assault, and for developing problems with alcohol. Furthermore, we know that trauma and posttraumatic stress disorder (PTSD) are related to alcohol use problems. For example, young adults with PTSD symptoms drink more heavily and are more likely to use alcohol as a coping strategy compared to individuals without PTSD. This is problematic, not only because they are at greater risk for developing an alcohol use disorder, but also because heavy alcohol use places them at greater risk for additional trauma exposure, such as a sexual assault.
There is some evidence indicating that PTSD might play a causal role in the development of alcohol use disorders, but we also know that shared genetic liability accounts for some of the overlap between trauma and alcohol phenotypes. The potential role of alcohol use in the onset of PTSD is also not well understood. To account for the many and varied factors influencing the associations among trauma, PTSD, and alcohol use problems, I approach my research from an interdisciplinary perspective, incorporating clinical laboratory designs with psychophysiological and genetic methods.
My primary research aims are:
To identify etiological pathways by which individuals develop co-occurring PTSD and alcohol use disorders so that we may better identify "at risk" individuals
To develop and evaluate prevention programs geared towards decreasing individuals' risk for psychopathology following trauma exposure
To enhance our understanding of how best to treat individuals when they present in clinical settings with comorbid PTSD and alcohol use disorders
Summary of a Recent Project on Sexual/Physical Assault and Alcohol Use in College Students
Berenz, E. C.*, Cho, S. B.*, Overstreet, C., Kendler, K., Amstadter, A. B.**, & Dick, D. M.** (2016). Longitudinal investigation of interpersonal trauma exposure and alcohol use trajectories. (*Co-first author; **Co-last author). Addictive Behaviors, 53, 67-73.
Although we often assume that trauma causes people to drink more, that has actually not been clearly demonstrated in the research literature. My colleagues and I analyzed data from three cohorts of undergraduate students (N=1,197) who participated in a longitudinal university-wide study of alcohol use and emotional health at Virginia Commonwealth University. Participants completed assessments at year one fall, year one spring, and year two spring semesters.
We found that women who reported a history of sexual or physical assault prior to college already drank more frequently and more heavily at their year one fall semester compared to their peers. Furthermore, even after accounting for a prior history of assault, young women who experienced a new assault during college reported an acute and long-term increase in their alcohol use. We did not find this pattern of findings for male students, indicating that young men and women may be affected differently by assault. Given that heavier alcohol use is a risk factor for sexual assault, as well as alcohol use disorders, it is important to evaluate prevention programs geared towards decreasing alcohol use in female assault survivors.
Figure. Sexual or physical assault is associated with increased alcohol use in female college students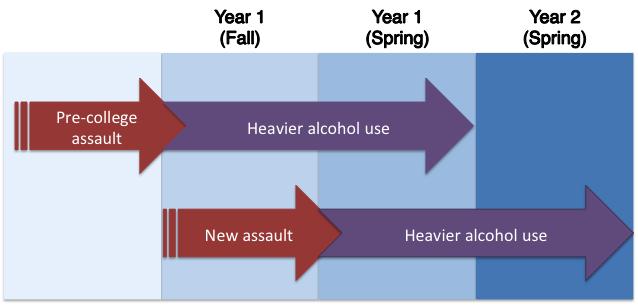 Contact Information:
Email:  ecb2z@virginia.edu
Lab Web Site:
https://research.med.virginia.edu/chrc/clinical-research/vat-lab/