Date: Friday May 5, 2017
Time: 11:45 AM until 1:00 PM
Location: Battle Bldg Quayle Learning Center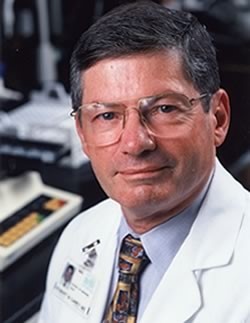 Robert M. Carey, M.D., M.A.C.P., F.A.H.A., F.R.C.P.I.
Professor of Medicine
Dean, Emeritus, School of Medicine
Division of Endocrinology and Metabolism
 "Role of AT2 receptors in cardiovascular and renal regulation"
May 5, 2017
12:00-1:00 pm*
Quayle Learning Center, Battle Building
*Free lunch served on a first-come basis starting at 11:45 a.m.
Learning Objectives:
Know the relative roles of AT1 and AT2 receptors in cardiovascular regulation.
Understand the cellular and molecular mechanisms of AT2 receptor activation.
Comprehend the therapeutic potential of AT2 receptor agonists.
Contact
cline@virginia.edu
for more information