Children's Health Research Center
Presents the
31st Annual Research Symposium
Thursday, May 30th
Call for Abstracts:
ABSTRACT DUE DATE – Friday, April 12, 2019
The Research Trainee Competition features Platform Presentations by Residents, Medical Fellows, Medical Students, Graduate Students and Undergraduates. Trainees of any member of the Dept. of Pediatrics or associated to the CHRC are encouraged to participate.
Trainee abstracts will be reviewed by a Committee and selected for presentation for the competition. Top presentations from the competition will be selected for Oral Presentation at the Annual Research Symposium. All trainee abstracts will be included in the Research Symposium. There is no need to write two abstracts.
To submit an abstract email to sp7uv@hscmail.mcc.virginia.edu
Daniel Benjamin Jr., MD, PhD – Keynote Speaker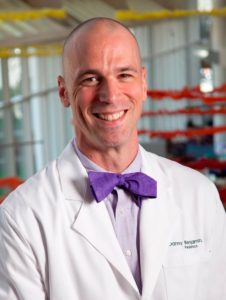 Dr. Benjamin is a, "Quadruple Hoo" who was born at UVA Hospital, completed his undergraduate degree, medical degree, and pediatric residency at the University of Virginia.
He is board certified in pediatrics and pediatric infectious disease, he completed pediatric infectious disease sub-specialty training at Duke University Medical Center and received a PhD in epidemiology from the University of North Carolina
Dr. Benjamin is the Principal Investigator and Chair of the National Institute of Child Health and Human Development's Pediatric Trials Network.
Dr. Benjamin is recognized by the National Institutes of Health as a premiere mentor and educator. His research program serves as a platform to train students and early career investigators. Dr. Benjamin also, has a clinical research summer program for high school and college students targeting under-represented minority students.
Dr. Benjamin is affiliated with Kiser-Arena Professor of Pediatrics, Pediatrics, and Infectious Diseases at Duke University. A professor of Pediatrics, Pediatrics, Infectious Disease and Member of the Duke Clinical Research Institute.